Overview
The start to 2015 was characterized by modest returns and increased volatility across most capital markets. Headlines focused on low oil prices, a rising dollar, quantitative easing abroad, the humanitarian crises in the Middle East and Africa, and renewed fears of a Chinese slowdown.
Undoubtedly, low oil prices have not only hit the energy sector, but they have depressed corporate earnings in the U.S. and hurt emerging market economies dependent on commodities. The unexpectedly sharp increase in the dollar was a drag on corporate earnings and U.S. economic growth. However, these are short-term reactions and likely will correct themselves over the longer term: low energy prices benefit the global economy more than they hurt it and a strong dollar helps U.S. consumers and foreign nations dependent on exports, such as the Eurozone. Despite this short-term volatility, a well-diversified portfolio posted gains in the first quarter.
Capital Markets Review
1st Quarter Index Returns

[1]:
MSCI EAFE (Developed Foreign Markets): 5.0%
Russell 2000 (U.S. Small Cap): 4.3%
MSCI EME (Emerging Markets): 2.3%
Barclays Aggregate (U.S. Fixed Income): 1.6%
S&P 500 (U.S. Large Cap): 1.0%
Barclays High Yield (U.S. High Yield Fixed Income): 0.6%
Dow Jones-UBS Commodities Index: -5.9%
Most of the major indices posted positive returns for the first quarter, with foreign markets leading the way – a turnaround from disappointing returns in 2014. The S&P 500 went from leader to laggard, with small caps beating large. In general, small cap stocks have less multinational exposure, and therefore were not as impacted by a strengthening dollar and other global headwinds, such as muted demand[2]. Surprisingly, Treasuries also outperformed the S&P 500, likely due to continued demand for U.S. bonds over lower-yielding foreign sovereign debt. Commodities continued to be dragged down by low oil prices, low inflation, over-production and decreasing global demand.

The U.S. Dollar

The dollar has been slowly moving upward over the past 4 years after a steady decline following the tech bubble, but jumped about 20% in the past 8 months[3] on an aggregate basis against foreign currencies.

The forces of supply and demand fundamentally determine the value of the dollar. The supply of the dollar is no longer increasing as the Fed's easy money policy, known as quantitative easing (QE), has ended, and the demand for U.S. dollars has gone up for a number of reasons. First, the U.S. has been one of the strongest economies in the world and is attracting lots of foreign capital. Second, increased oil production here means we are importing less oil and fewer U.S. dollars are flowing abroad. Finally, domestic fiscal policies to reduce government spending and increase tax revenue have improved federal finances, and QE initiatives abroad have reduced the yields on foreign sovereign debt; investors seeking safety are flocking to the U.S. Treasury market, which increases the value of the dollar[4]. 

U.S. GDP

Growth in the U.S. economy increased from 2.2% in 2013 to 2.4% in 2014, driven primarily by consumers, who benefitted from increased employment, slightly higher income, and low gas prices. However, the growth rate decelerated in the fourth quarter last year to 2.2%, compared with 5% growth in the third quarter[5].

Estimates for 1st quarter growth are not in as of the writing of this, however several economic readings have been slightly below expectations. A likely culprit is the long and harsh winter that most of the country endured, which impacted industrial production and weakened retail sales[6]. Additionally, the strong dollar has decreased exports (since American goods are now more expensive to foreign consumers), dragging down headline GDP. This is an unexpected development and will certainly present challenges to economic growth this year. On a positive note, the position of U.S. consumers continues to improve, with more people working, incomes increasing, and low gas prices. That, along with loosening credit, positive consumer sentiment, and neutral Fed policies[7] means there is still room for the U.S. economy to grow, which is a tailwind to investors in most asset classes.

Labor Market

The U.S. economy added 3.2 million new jobs last year – the strongest employment gain since 2000[8]. More Americans are working now than before the start of the Great Recession with job growth happening in all sectors, except for the government[9]. The unemployment rate is expected to fall to about 5% by the end of the year. The tightening labor market should drive wages up, increasing income. U.S. consumers' real purchasing power will be the strongest gain in a decade, benefitting from lower gas prices, a strong dollar, and continued low inflation[10].

Corporate Earnings

Corporate earnings in the 4th quarter were down about $3 per share from the 3rd quarter and are expected to be about 2% lower this year than last year[11]. One factor was the decrease in oil prices, which hit energy companies' earnings harder than the benefit conveyed in the form of cost reductions to other industries. The strong dollar depressed foreign sales, hurting large multinational companies, and was one of the reasons the S&P 500 lagged other indices. While slowing earnings growth might drag on U.S. equities a bit, it is not unusual as the economy transitions from early to mid-cycle expansion.

Oil

Oil prices bounced around but remained low during the first quarter. The monthly average price of crude oil was around $56 per barrel and the U.S. Energy Information Administration (EIA) predicts that it will average around $59 per barrel over the course of the year, with prices rising more quickly toward yearend[12]. U.S. oil production is still on track to rise compared with 2014 – from existing wells – but low prices have put plans for additional oil infrastructure projects on hold.

Consumption of oil in the U.S. has increased while imports have steadily decreased (see table below)[13]. Oil imports used to cost the U.S. about 2.3% in GDP each year, but that has dropped to about 1%[14].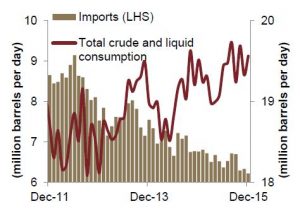 Interest Rates

Continued demand for U.S. Treasuries kept interest rates low during the first quarter, providing positive returns to fixed income portfolios. The Fed held course with previous projections for the first rate hike, signaling that it would happen before the end of the year, although many now believe they will wait until September, instead of June, to raise rates and that rates will increase about 25 basis points each quarter moving forward[15].  Volatility in the currency, oil and equity markets as well as continued low inflation could be holding the Fed back from moving forward with tightening monetary policy as expected.

International

While the U.S. is still the shining star of the global economy, things are looking brighter overseas.

Europe: The European Central Bank (ECB) announced a massive quantitative easing initiative to help prop up the flagging economy. Credit conditions and consumer sentiment are improving, with loan growth picking up for the first time since 2012; these, combined with pent-up demand, have resulted in more large purchases[16], and provide a nice backdrop for rising equity markets. Additionally, the weakening of the euro against the dollar should result in increased exports from the region, further boosting economic growth, since countries like Germany are much more dependent on exports than the U.S.

Japan: While Japan is still in need of structural corporate reform for long-term economic growth, in the short-run, accommodative monetary policy and a weak yen will boost its international competitiveness, resulting in increased multinational profits. Analysts have also noted an increase in equity investments by pension funds and public institutions[17]. Taken together, these should help lift Japan out of its recent recession and prop up Japanese equity markets this year.

China: Fears of a Chinese slowdown have surfaced again with reports of falling real estate prices and activity measures, weakening the sector. Renewed stimulus measures by the government to help smooth out conditions may be effective in the short-term, but in general, many analysts expect China to continue its slowing trend, as it feels the after-effects of its credit and property boom[18].

Globally, the economy continues to expand, albeit at a slower pace. Developed economies, which make up the greater part of the world GDP, will continue to benefit more from low oil prices and weakening non-U.S. currencies than emerging markets. We continue to believe that opportunities exist abroad for diversified investors.

Potential Risks to Investors and the Importance of Diversification

We would be remiss to highlight the many positives in the world economy without noting some of the risks to investors. Expectations for continued growth in the U.S. economy could be tempered if profit and earnings trends remain weak. Additionally, analysts are closely watching the tightening labor market for its impact on productivity and corporate growth[19].

While there are many reasons to be optimistic on Europe, it has not been able to secure a strong foothold in its recovery. Missteps in monetary policy and structure reform could continue to hold the Eurozone back and put it into a secular recession, similar to what Japan has experienced[20].  And, as almost a quarter of world GDP growth, if China is not able to manage its slowing economic growth in a smooth fashion, there could be ramifications in equity markets felt worldwide.

 In uncertain, volatile times such as these, diversification across and within different asset classes remains a crucial element of smart and sophisticated investing. Working with an experienced investment advisor who uses a diversified and balanced approach to portfolio management can help provide direction, clarity and peace of mind, helping you stay disciplined as you work toward your financial goals.

If you are a client and would like further detail on these topics or anything else, please don't hesitate to call or email us. If you are not a client, but would like more information on Callan Capital's wealth management services, please contact us at (858) 551-3800 or visit www.callancapital.com.

Important Index Descriptions and Disclaimers

PAST PERFORMANCE IS NO GUARANTEE OF FUTURE RESULTS

INDEX DESCRIPTIONS:

The following descriptions, while believed to be accurate, are in some cases abbreviated versions of more detailed or comprehensive definitions available from the sponsors or originators of the respective indices. Anyone interested in such further details is free to consult each such sponsor's or originator's website.

The past performance of an index is not a guarantee of future results. Each index reflects an unmanaged universe of securities without any deduction for advisory fees or other expenses that would reduce actual returns, as well as the reinvestment of all income and dividends. An actual investment in the securities included in the index would require an investor to incur transaction costs, which would lower the performance results. Indices are not actively managed and investors cannot invest directly in the indices.

S&P 500®: Standard & Poor's (S&P) 500® Index. The S&P 500® Index is an unmanaged, capitalization – weighted index designed to measure the performance of the broad US economy through changes in the aggregate market value of 500 stocks representing all major industries.Russell 2000 Index: An index measuring the performance approximately 2,000 small-cap companies in the Russell 3000 Index, which is made up of 3,000 of the biggest U.S. stocks. The Russell 2000 serves as a benchmark for small-cap stocks in the United States. EAFE Index: An index created by Morgan Stanley Capital International (MSCI) that serves as a benchmark of the performance in major international equity markets as represented by 21 major MSCI indexes from Europe, Australia and Southeast Asia. This international index has been in existence for more than 30 years. Goldman Sachs Commodity Index – GSCI: A composite index of commodity sector returns which represents a broadly diversified, unleveraged, long-only position in commodity futures.

DISCLAIMERS:

Nothing contained herein is intended constitutes accounting, legal, tax advice or investment recommendations, or the recommendation of or an offer to sell, or the solicitation of an offer to buy or invest in any investment product, vehicle, service or instrument.  Callan Capital does not provide individual tax or legal advice. Clients should review planned financial transactions and wealth transfer strategies with their own tax and legal advisors. For more information, please refer to our most recent Form ADV Part 2A which may be found at www.adviserinfo.sec.gov.

Any forecasts, figures, opinions or investment techniques and strategies set out are for information purposes only, based on certain assumptions and current market conditions and are subject to change without previous notice. All information presented herein is considered to be accurate at the time of writing, but no warranty of accuracy is given and no liability in respect to any error or omission is accepted.  This information should not be relied upon by you in evaluating the merits of investing in any securities or products mentioned herein.  In addition the Investor should make an independent assessment of the legal, regulatory, tax, credit and accounting and determine, together with their own professional advisers, if any of the investments mentioned herein are suitable to their personal goals. Investors should ensure that they obtain all available relevant information before making any investment. It should be noted that the value of investments and the income from them may fluctuate in accordance with market conditions and taxation and investors may not get back the full amount invested. Both past performance and yield may not be a reliable guide to future performance.

The information presented herein is for the strict use of the recipient and it is not for dissemination to any other third parties without the explicit consent of Callan Capital, LLC.

[1] J.P.Morgan Asset Management. (2015, April 6). Guide to the Markets | U.S. | 2Q 2105 | As of March 31, 2015. Retrieved from J.P.Morgan Asset Management: http://www.jpmorganfunds.com

[2] Fidelity Investments. (2015, April 15). Second Quarter 2015 | Quarterly Market Update. Retrieved fromFidelity Investments: http://www.fidelity.com

[3] Dr. David Kelly, C. (2015, April 6). J.P. Morgan Asset Management | Guide to the Markets

[4] Burt White, LPL Financial. (2015, January 30). Why The Dollar Is Strong. Retrieved from Business Insider: http://www.businessinsider.com

[5] Bureau of Economic Analysis. (2015, March 27). New Release: Gross Domestic Product. Retrieved from U.S. Department of Commerce | Bureau of Economic Analysis: http://www.bea.gov

[6] Robert C. Doll, C. (2015, April). Expect a Bumpy Road, but Equities Should Eventually Press Higher. Retrieved from Nuveen Asset Management: http://www.nuveen.com

[7] Fidelity Investments. (2015, April 15). Second Quarter 2015 | Quarterly Market Update. Retrieved fromFidelity Investments: http://www.fidelity.com

[8] Fidelity Investments. (2015, April 15). Second Quarter 2015 | Quarterly Market Update. Retrieved fromFidelity Investments: http://www.fidelity.com

[9] J.P.Morgan Asset Management. (2015, April 6). Guide to the Markets | U.S. | 2Q 2105 | As of March 31, 2015. Retrieved from J.P.Morgan Asset Management: http://www.jpmorganfunds.com

[10] Fidelity Investments. (2015, April 15). Second Quarter 2015 | Quarterly Market Update. Retrieved fromFidelity Investments: http://www.fidelity.com

[11] Dr. David Kelly, C. (2015, April 6). J.P. Morgan Asset Management | Guide to the Markets.

[12] U.S. Energy Information Administration (EIA). (2015, April 7). Short-Term Energy Outlook. Retrieved from U.S. Energy Information Administration : http://www.eia.gov

[13] Jadwa Investment. (2015, April 8). Quarterly Oil Market Update (Q1 2015). Retrieved from Jadwa Investment: http://www.jadwa.com

[14] Dr. David Kelly, C. (2015, April 6). J.P. Morgan Asset Management | Guide to the Markets.

[15] Dr. David Kelly, C. (2015, April 6). J.P. Morgan Asset Management | Guide to the Markets.

[16] Fidelity Investments. (2015, April 15). Second Quarter 2015 | Quarterly Market Update. Retrieved fromFidelity Investments: http://www.fidelity.com

[17] Fidelity Investments. (2015, April 15). Second Quarter 2015 | Quarterly Market Update. Retrieved fromFidelity Investments: http://www.fidelity.com

[18] Fidelity Investments. (2015, April 15). Second Quarter 2015 | Quarterly Market Update. Retrieved fromFidelity Investments: http://www.fidelity.com

[19] Fidelity Investments. (2015, April 15). Second Quarter 2015 | Quarterly Market Update. Retrieved fromFidelity Investments: http://www.fidelity.com

[20] Robert C. Doll, C. (2015, April). Expect a Bumpy Road, but Equities Should Eventually Press Higher. Retrieved from Nuveen Asset Management: http://www.nuveen.com

Important Index Descriptions and Disclaimers

PAST PERFORMANCE IS NO GUARANTEE OF FUTURE RESULTS