Capital Markets Review
January 1, 2015 – December 31, 2015 index returns[fusion_builder_container hundred_percent="yes" overflow="visible"][fusion_builder_row][fusion_builder_column type="1_1″ background_position="left top" background_color="" border_size="" border_color="" border_style="solid" spacing="yes" background_image="" background_repeat="no-repeat" padding="" margin_top="0px" margin_bottom="0px" class="" id="" animation_type="" animation_speed="0.3″ animation_direction="left" hide_on_mobile="no" center_content="no" min_height="none"][1]:
S&P 500 (U.S. Large Cap): 1.4%
Russell 2000 (U.S. Small Cap): -4.4%
MSCI EAFE (Developed International Markets): -0.4%
MSCI EME (Emerging Markets): -14.6%
Barclays Capital Aggregate (U.S. Fixed Income): 0.5%
Barclays Global High Yield Index: -2.7%
Bloomberg Commodity Index: -24.7%
2015 – A Bumpy Ride
Last year was difficult for the financial markets. It was characterized by declines in the price of oil, a rise in the U.S. dollar, a slowdown in China's economic growth, and an increase in the Fed Funds rate for the first time since 2006. With a lot of anticipation and uncertainty around these events, the markets responded with volatility. Aggressive selloffs in China sent signals to other emerging markets that the global economy could take a downturn. The commodities market hit the biggest roadblock in 2015 due to the drop in oil prices from the oversupply of oil. While we were accurate in predicting that 2015 would be a year of higher volatility and lower overall returns, we did not expect an 18% increase in the U.S. dollar or a 30% decrease in the price of oil. The high U.S. dollar ultimately hampered economic growth in 2015, increasing the cost of U.S. exports. The decrease in oil was a net economic benefit by bringing the cost down of oil-related products, including gasoline. The combination of the two will likely result in about a 2% GDP growth rate for 2015.
We saw significant improvements in the labor market with over 2.7 million jobs added to the economy last year[2]. Wage growth was lower than expected as the overall labor force grew and employers did not need to hike wages to attract and retain talent. It was no surprise the Fed raised rates in 2015, albeit less than we expected at the beginning of the year. This was a sign that our economy is stable enough to handle the Fed's tightening monetary policy.
2016 – The Worst Start in History
In 2016, the stock market is off to a rough start with the S&P 500 declining almost 9% through January 20. The news is more of the same from last year. Oil has continued its slide by another 25% and China has announced further economic slowdown and an additional devaluation to its currency. In addition, the 4th quarter economic growth appears to have slowed due to an increase in consumer savings and a decrease in consumer spending. In addition, manufacturing and retail sales were down around the holidays. The recent volatility has forced some to make comparisons to 2008.
We are much better positioned for market volatility than we were in 2008; we believe what we are experiencing is a normal market correction and not a systemic failure. First, banks are better capitalized — 31 banks in the last stress test had $1.1 trillion in common equity at the end of 2014 as opposed to $49 billion at the start of 2009. As a result, there is no indication that the credit markets will freeze as they did eight years ago. Second, consumers are less leveraged — household debt ratios in the U.S. were 130% of income in 2008 and 103% of income today[3].
Where Do We Go From Here?
So far, there is nothing to indicate a recession in 2016. Oil declines have been attributable to a supply imbalance rather than a decline in global demand. The latest employment report showed 292,000 jobs added in December along with improving consumer sentiment. Given the stability of the U.S. economy, we expect growth in 2016 of approximately 2% driven by increases in consumer spending. Oil will continue its volatile swings in the short term, causing a slowdown in worldwide production growth rates.
We anticipate the Fed raising interest rates gradually and incrementally. With the continued decline in oil prices in 2016 along with a high value dollar, inflation has fallen well below the Fed target of 2%. It appears less likely that the Fed will hike rates another 1% in 2016 as was initially expected just a few weeks ago. When inflation signals come back, the Fed will continue its slow and steady approach to raising rates. There is no evidence this will be bad for stock market returns. The last three of five rate hike cycles had positive returns for the S&P 500.
After the Great Recession, U.S. real economic growth, or GDP, has averaged a modest 2.2%[4]. During this time, we've added 13.7 million jobs and driven unemployment down from 10% to less than 5%[2]. The resulting job growth has increased household income, which combined with low energy prices, has left consumers with more money to save or to spend on other goods and services. We expect positive payroll numbers to continue in 2016, further lowering the unemployment rate to the low 4% range by year-end.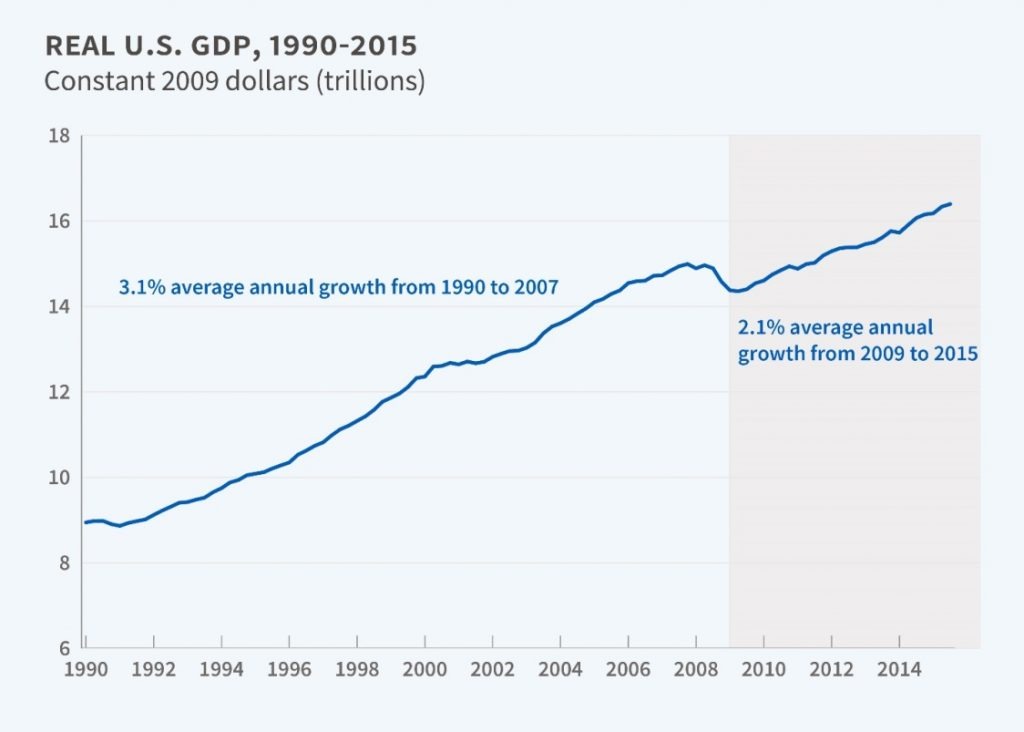 Last year, we saw the dollar climb 18%, but there is little to indicate an increase of that magnitude will occur in 2016. With the dollar's substantial appreciation since mid-2014, U.S. exports dropped in 2015 for the first time since the Great Recession. The high value of the U.S. dollar, relative to other currencies, has made U.S. exports more expensive and imported goods cheaper. Buying imports, and therefore putting the dollar out in the world, will slow the dollar's advance.
The large increase in oil supply is partly due to OPEC's sharp rise in oil production in 2015 and partly due to increased U.S. shale oil production over the last several years. This oversupply has continued to push down oil prices. While good for consumers, it hurt the energy sector. U.S. oil production should decline in 2016, and we can expect to see a slow turn upward in oil prices as a result. Low oil prices are simply due to the oversupply, and it is important for investors to keep in mind that prices are not telling us much more about the global economy. Even as we experience continued volatility, the long-term outlook is positive, especially for Master Limited Partnerships (MLPs), which have been hit along with the price of oil. The immediate outlook for MLPs may not be smooth, but their potential for earnings growth paired with their favorable valuations make them attractive vehicles to invest in as part of a well-diversified portfolio.
What is the Global Outlook?
As the Fed withdraws economic stimuli, other major central banks, including the European Central Bank (ECB), Bank of Japan (BoJ) and Peoples Bank of China (PBoC) pursue aggressive economic stimulus programs. Things are already starting to look good in Europe, as banks have increased their lending, the Euro is getting stronger and unemployment is decreasing. The unemployment rate is over 10% and trending lower[1]. We continue to feel there are better opportunities for stock returns outside the U.S. Quantitative easing programs by the central banks overseas are still in the works; they are in the early stages of a recovery and valuations are modestly attractive.
With all eyes focused on Chinese selloffs, there has been investor aversion to the risk posed by emerging markets and their currencies. We should note that China's stock market is only about 13% of its GDP, while the U.S. market is 97% of our GDP[1]. In other words, a sharp decline in its stock market doesn't necessarily indicate a sharp decline in its economy. China is less of a free market economy than the U.S., so we expect the Chinese government to continue to interfere in an attempt to maintain stability.  Although they have yet to figure out their approach, our feeling is that China is slowing but growing, and not collapsing. China is moving toward consumer services and spending, and away from an export-driven economy. This will slow growth in China and impact companies and emerging markets that depend on the Chinese markets for economic growth. The volatility in China has very little impact on developed economies other than the impact it is having on investor sentiment. Low valuations and potential for growth in emerging markets make them attractive investments over the next several years.
Despite the uncertainty and the potential for short-term volatility, slow, long-term growth is on the horizon. We see a strengthening U.S. economy paired with gradual global growth. Although it's a low growth world where returns are more muted, we see opportunities to invest in certain sectors and geographic regions, as they are especially well priced in today's market environment. In our view, asset allocation, diversification and discipline remain crucial to portfolio success. If you are a client and would like further detail on these topics or anything else, please call or email us. If you are not a client, but would like more information on Callan Capital's wealth management services, please contact us at (858) 551-3800 or www.callancapital.com.
P. Morgan Asset Management. (2016, January 5). Guide to the Markets | U.S. | 1Q 2016 | As of December 31, 2015. Retrieved from J.P.Morgan Asset Management: http://www.jpmorganfunds.com
U.S. Bureau of Labor Statistics
http://www.wsj.com/articles/why-this-market-meltdown-isnt-a-repeat-of-2008-1452892357
David Kelly and John Bilton, (2015, December 9). Our 2016 Outlook.  J.P. Morgan Asset Management
Important Index Descriptions and Disclaimers
PAST PERFORMANCE IS NO GUARANTEE OF FUTURE RESULTS
INDEX DESCRIPTIONS:
The following descriptions, while believed to be accurate, are in some cases abbreviated versions of more detailed or comprehensive definitions available from the sponsors or originators of the respective indices. Anyone interested in such further details is free to consult each such sponsor's or originator's website.
The past performance of an index is not a guarantee of future results. Each index reflects an unmanaged universe of securities without any deduction for advisory fees or other expenses that would reduce actual returns, as well as the reinvestment of all income and dividends. An actual investment in the securities included in the index would require an investor to incur transaction costs, which would lower the performance results. Indices are not actively managed and investors cannot invest directly in the indices.
S&P 500®: Standard & Poor's (S&P) 500® Index. The S&P 500® Index is an unmanaged, capitalization – weighted index designed to measure the performance of the broad US economy through changes in the aggregate market value of 500 stocks representing all major industries.
Russell 2000 Index: An index measuring the performance approximately 2,000 small-cap companies in the Russell 3000 Index, which is made up of 3,000 of the biggest U.S. stocks. The Russell 2000 serves as a benchmark for small-cap stocks in the United States.
EAFE Index: An index created by Morgan Stanley Capital International (MSCI) that serves as a benchmark of the performance in international index has been in existence for more than 30 years.
EME Index: An index created by Morgan Stanley Capital International (MSCI) that serves as a benchmark of the performance in global emerging markets.  It is a float-adjusted market capitalization index that consists of indices in 21 emerging economies.
Barclays Capital Aggregate Bond Index:  An index maintained by Barclays Capital, which took over the index business of the now defunct Lehman Brothers, and is often used to represent investment grade bonds being traded in United States.  It is an unmanaged index considered representative of fixed-rate, noninvestment-grade debt of companies in the US, developed markets and emerging markets.
Barclays Global High Yield Index:  An index maintained by Barclays Capital.
Bloomberg Commodity Index:  A broadly diversified commodity price index distributed by Bloomberg Indexes.  It tracks prices of futures contracts on physical commodities on the commodity markets. The index is designed to minimize concentration in any one commodity or sector. It currently has 22 commodity futures in seven sectors.
DISCLAIMERS:
Nothing contained herein is intended constitutes accounting, legal, tax advice or investment recommendations, or the recommendation of or an offer to sell, or the solicitation of an offer to buy or invest in any investment product, vehicle, service or instrument.  Callan Capital does not provide individual tax or legal advice. Clients should review planned financial transactions and wealth transfer strategies with their own tax and legal advisors. For more information, please refer to our most recent Form ADV Part 2A which may be found at www.adviserinfo.sec.gov.
Any forecasts, figures, opinions or investment techniques and strategies set out are for information purposes only, based on certain assumptions and current market conditions and are subject to change without previous notice. All information presented herein is considered to be accurate at the time of writing, but no warranty of accuracy is given and no liability in respect to any error or omission is accepted.  This information should not be relied upon by you in evaluating the merits of investing in any securities or products mentioned herein.  In addition the Investor should make an independent assessment of the legal, regulatory, tax, credit and accounting and determine, together with their own professional advisers, if any of the investments mentioned herein are suitable to their personal goals. Investors should ensure that they obtain all available relevant information before making any investment. It should be noted that the value of investments and the income from them may fluctuate in accordance with market conditions and taxation and investors may not get back the full amount invested. Both past performance and yield may not be a reliable guide to future performance.
The information presented herein is for the strict use of the recipient and it is not for dissemination to any other third parties without the explicit consent of Callan Capital, LLC.[/fusion_builder_column][/fusion_builder_row][/fusion_builder_container]