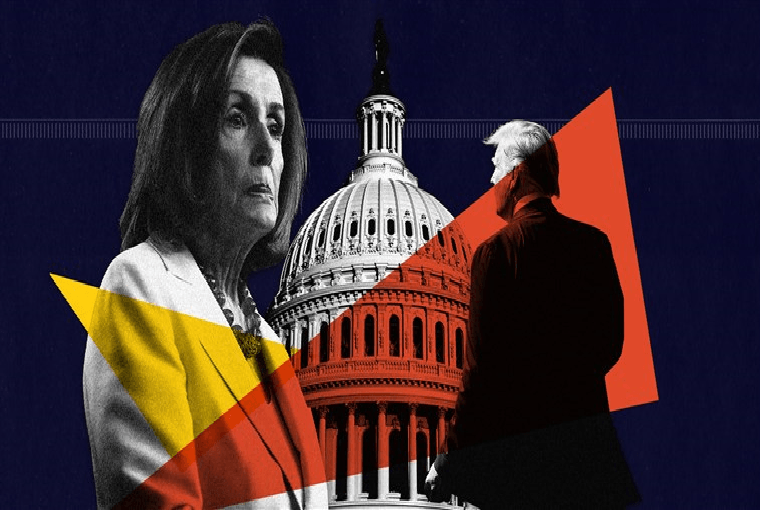 The impeachment inquiry launched by the House Democrats against President Donald Trump will dominate the headlines over the coming months. The Democratic leadership were convinced to pull the trigger by the revelation that Trump had asked the Ukraine new President to investigate the family of Joe Biden. It would be a surprise if the House Democrats didn't eventually vote to impeach but, with Trump continuing to enjoy strong support from his own party, it would be an even bigger shock if the Republican-controlled Senate voted with the two-thirds majority needed to remove him from office. The investigation will make it even harder for Trump and the House Democrats to agree on anything else. The chances of the USMCA trade deal being passed before the election are now slim and there is arguably a greater risk of another government shutdown later this year.
Thus far, the market has generally ignored the daily escalation in rhetoric down in DC between the Trump administration and Democrats on the impeachment front. September saw the Dow Jones Industrial Average and S&P 500 rise 3.1% and 2.5%, respectively.
The Economy
We continue to expect GDP growth to slow to little more than 1% annualized over the coming quarters, as slowing consumption growth, escalating trade tensions and global economic weakness take their toll. Under those circumstances, we anticipate one final 25bp interest rate cut from the Fed in December to try to head off a recession, but the trade war and next year's presidential election mean the outlook is more uncertain than usual. We suspect that a slowdown in real income growth will weigh on consumer spending, with real consumption growth slowing from 2.7% this year to 2.3% in 2020. Nevertheless, with household debt servicing costs close to a record low and the saving rate high, a more severe downturn remains unlikely.
Trade
We do not expect a resolution to the trade war with China this side of the 2020 election. Together with the continued weakness of global economic growth, that will remain a drag on export growth, which we expect to be only 0.2% this year and 1.1% in 2020. Weakening domestic demand will hold back import growth to slightly less than 2% both this year and next.
The Fed
In the near-term, we expect the Fed to follow up with one more 25bp interest rate cut in December which, together with the 50bp of loosening already implemented in the past few months, should be enough to stabilize economic growth in 2020. Further ahead, the outlook for both monetary and fiscal policy depend crucially on the outcome of the November 2020 presidential election.
Central bank activity has been a primary focus for investors with 8 of the top 10 developed market central banks meeting in the month of September. While only the ECB and the Federal Reserve reduced their target policy rates, the forward guidance from other central bankers suggests broad-based easing in the months ahead as the global economic outlook continues to dampen. However, while trade tensions continue to weigh on the outlook, a concerted effort from global central banks to provide stimulus should be supportive of global growth. Still, it will take some time for stimulus to make its way through the financial system and we suggest investors should therefore proceed with caution.
Brexit
Boris Johnson will launch his bid to secure a Brexit deal, with allies admitting they could know "by the weekend" whether the EU will engage in a plan to resolve the Irish border issue. Mr. Johnson's allies say they expect Britain to submit to Brussels its formal proposals for a Brexit deal after the prime minister closes the Conservative party conference in Manchester. Patience is wearing thin on the EU side as negotiators wait for detailed UK proposals. One EU diplomat complained that Mr. Johnson was pursuing a "kamikaze" approach by threatening the rest of the EU with no-deal and while leaving a revised offer so late in the day.
Conclusion
Analysts say the market should be able to weather the impeachment inquiry, and even if the Senate takes it up, there's little chance the president would be convicted by the GOP controlled body. The Fed is being proactive in its attempts to stave off a recession. Still, with growing political uncertainty globally, a balanced approach in portfolios is warranted. Declining interest rates bode well for high-quality duration, while low, but steady growth still leaves some room for stocks to grind higher.
Disclaimers
Past performance does not guarantee future results, which may vary. This material is provided for informational purposes only and should not be construed as investment advice or an offer or solicitation to buy or sell securities. Callan Capital does not provide individual tax or legal advice, nor does it provide financing services. Clients should review planned financial transactions and wealth transfer strategies with their own tax and legal advisors. Callan Capital outsources to lending and financial institutions that directly provide our clients with, securities-based financing, residential and commercial financing and cash management services. For more information, please refer to our most recent Form ADV Part 2A which may be found at www.adviserinfo.sec.gov
The S&P 500 Index is widely regarded as the best single gauge of the U.S. equities market. This world-renowned index includes a representative sample of 500 leading companies in leading industries of the U.S. economy. Although the S&P 500 Index focuses on the large-cap segment of the market, with approximately 75% coverage of U.S. equities, it is also an ideal proxy for the total market. An investor cannot invest directly in an index
This document is a general communication being provided for informational purposes only. It is educational in nature and not designed to be a recommendation for any specific investment product, strategy, plan feature or other purposes. By receiving this communication you agree with the intended purpose described above. Any examples used in this material are generic, hypothetical and for illustration purposes only. None of Callan Capital, its affiliates or representatives is suggesting that the recipient or any other person take a specific course of action or any action at all. Communications such as this are not impartial and are provided in connection with the advertising and marketing of products and services. Prior to making any investment or financial decisions, an investor should seek individualized advice from a personal financial, legal, tax and other professional advisors that take into account all of the particular facts and circumstances of an investor's own situation.
Opinions and statements of financial market trends that are based on current market conditions constitute our judgment and are subject to change without notice. We believe the information provided here is reliable but should not be assumed to be accurate or complete. The views and strategies described may not be suitable for all investors.
PAST PERFORMANCE IS NO GUARANTEE OF FUTURE RESULTS
Copyright 2019 Callan Capital, All Rights Reserved.
1250 Prospect St. Suite 1, La Jolla, CA 92037
4611 Bee Cave Rd. Suite 201, Austin, TX 78746
www.callancapital.com