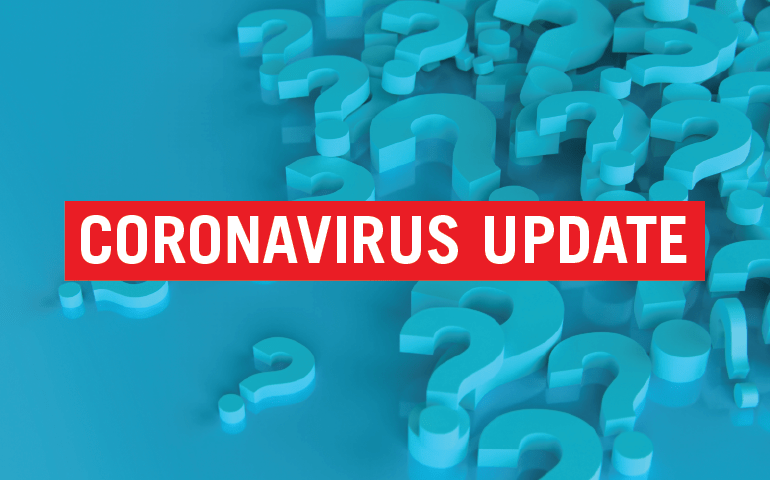 What began with a handful of mysterious illnesses in a market in Wuhan, China has since turned into a pandemic that has traversed the world. First detected on December 31, 2019, the novel coronavirus has infected tens of thousands of people. It has triggered unprecedented quarantines, a stock market upheaval and historical government intervention. As the country and its health-care system prepares, much is still unknown about the virus now named Covid-19. As a continuation of our update on the new government aid packages released today, the following is a brief on several topics we believe are key to our recovery from the pandemic.
TRUMP AND FAUCI
President Trump's latest call to reopen the United States economy by Easter has put him at odds with public health officials. The potential downside if we open too soon is enormous. Public health experts and even some Republican lawmakers have been uneasy about the idea of rushing to boost a lagging economy before the virus is fully contained. They have warned of potentially catastrophic consequences, including a spike in infections and deaths that could lead to overrun hospitals, and argued the health of the nation should be the priority. In a tweet, President Trump said "We can do two things together. THE CURE CANNOT BE WORSE (by far) THAN THE PROBLEM!"
Dr. Anthony Fauci, the head of the National Institute of Allergy and Infectious Diseases and a prominent member of the White House's coronavirus task force, added that a timeline for the lifting of restrictions on parts of the country by Easter Sunday should be "flexible." "You may not want to essentially treat it as just one force for the entire country, but look at flexibility in different areas," Fauci said. "So I think people might get the misinterpretation you're just going to lift everything up. . . .That's not going to happen. It's going to be looking at the data. And what we don't have right now that we really do need, we need to know what's going on in those areas of the country where there isn't an obvious outbreak."
Fauci has openly tempered expectations for a quick coronavirus vaccine and an end to the epidemic on the press conference stage with Trump, even as the president promised everything was under control and a vaccine would be ready soon. But Dr. Fauci also said there was a limit to what he could do when Mr. Trump made false statements. "I can't jump in front of the microphone and push him down," Dr. Fauci said. "OK, he said it. Let's try and get it corrected for the next time."
POSSIBLE VACCINES AND TREATMENTS
There are currently no FDA-approved drugs specifically for the treatment of patients with COVID-19. Based on data from China, Fauci said about 80% of people who get infected "do really quite well" and recover without any medical treatment. But about 10% to 15% get seriously ill, particularly those in high-risk groups such as the elderly or patients with other medical problems. Currently, clinical management for those who have COVID-19 includes infection prevention, control measures and supportive care such as supplementary oxygen and ventilatory support in the most severe of cases.
According to the CDC, the US Food and Drug Administration cleared the way for New York to experiment with different treatment drugs. The CDC notes that there are a number of drugs that have been approved for other ailments as well as several investigational drugs that are being studied in clinical trials taking place across the world. The World Health Organization said on March 6 that it has received applications for 20 vaccines in development and many clinical trials of therapeutics are underway.
Earlier in the week, President Trump and members of his Cabinet met at the White House with executives of 10 pharmaceutical companies to discuss ways to speed the development of a vaccine for the coronavirus. In China, scientists have been testing a combination of HIV drugs against the new virus, as well as an experimental drug named Remdesivir that was in development to fight Ebola.
President Donald Trump has pledged to "slash red tape like nobody has even done it before" to accelerate the development of a coronavirus vaccine. But his push could backfire if the government moves too fast. Testing a vaccine must proceed in stages, not only to make sure that it works but to make sure it is safe. This is a process that can take months, if not over a year, according to Dr. Anthony Fauci. Testifying before the Senate on Tuesday, he made it clear that neither a coronavirus treatment nor a vaccine can be ready quickly. Fauci has said it could take 12 to 18 months to make a vaccine available, but even that timetable could be overly ambitious. The most promising technologies haven't been tested on massive groups of people and public health officials typically take their time when vetting vaccines targeted at millions. In some cases, a vaccine that hasn't been properly tested could make people sicker. And if there are complications, the public relations problems could mount, spurring an anti-vaccination sentiment. Fauci indicated potential treatments may come before a vaccine.
OUR HEALTHCARE SYSTEM
Healthcare officials battling the coronavirus are making the difficult decision to limit testing to conserve critical resources, even as more test kits become available. The balancing act means that despite an increase in drive-thru testing sites and point-of-care tests that deliver results in minutes, some of the hardest-hit areas are still restricting evaluations to health care workers and the most vulnerable patients.
Instead of broad, community-wide testing, cities in California and New York are focused on making sure only the sickest people and health care workers get tested. Doing so also slows the use of personal protective equipment (PPE) like masks, gowns and gloves, which are facing a nationwide shortage. "We're in a much different place than we were two weeks ago, and we'll be in a much different place in a week. The supply chain just isn't there at the moment, so you do have to make those tough decisions about prioritization." said Scott Becker, CEO of the Association of Public Health Laboratories.
According to the Harvard Global Health Institute, the coronavirus could end up causing between 10 million and 34 million hospital visits and about a fifth of those patients will require intensive care. "The risk to our health-care workers is one of the great vulnerabilities of our health-care system in an epidemic like this," he said. "Most ERs and health-care systems are running at capacity in normal times."
In light of the fact that there isn't enough space in hospitals to deal with an explosive outbreak, it's important to do what can be done to slow transmission. As Aaron Carroll, professor at Indiana University School of Medicine summed up "A crucial thing to understand about the coronavirus threat — and it's playing out grimly in Italy — is the difference between the total number of people who might get sick and the number who might get sick at the same time."
In Italy, which has been particularly hard hit, doctors and hospitals have become so overwhelmed that the Italian College of Anesthesia, Analgesia, Resuscitation and Intensive Care has published guidelines calling for doctors to approach patients with a wartime triage sensibility; and it has discussed a potential age limit for access to care. One advantage the U.S. has over the Italian health care system is a greater number of intensive care unit (ICU) beds. But while the US has more ICU beds than European countries do on average, the availability of those beds is still deeply concerning. "It's estimated that we have about 45,000 intensive care unit beds in the United States. In a moderate outbreak, about 200,000 Americans would need one," said Carroll.
Public behavior is going to play a big factor in determining if and when there's a huge surge beyond the health care system's capacity. Experts say social distancing and hygienic practices like methodically washing one's hands and cleaning potentially infected surfaces could slow the pace at which coronavirus spreads through the population, if enough people observe these practices. This in turn could "flatten the curve" of new coronavirus cases, ensuring that hospital capacity isn't dramatically exceeded.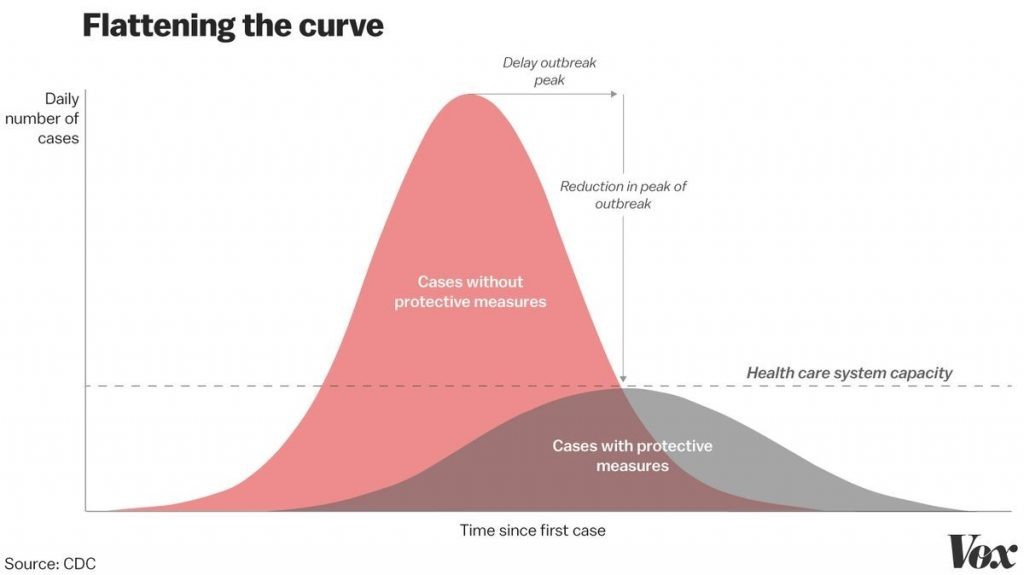 The strategy is seeing some results in Washington state, the first state to test positive for the virus. Washington state Gov. Jay Inslee says number of cases is still rising, but not as steeply as before. "It is a glimmer of hope," he says. "It's suggestive that some of the things we are doing together is having some modest improvement," Inslee says. But for every note of optimism, the governor adds caution. "We shouldn't be within ten thousand miles of champagne corks on this," he says. "Because if we do not continue to increase [the downward pressure on the infection rate], a lot of people are going to die across the state of Washington." It's a delicate balance for governors right now, as they try to show the public evidence that the disruption of social distancing is working, without giving people reason to lower their guard.
THE ECONOMY
Financial markets have moved swiftly and are now pricing in a global recession, with the S&P 500 falling into bear market territory and both investment grade and high yield bond spreads widening significantly. This recession, however, should be treated differently than the recession triggered by the 2008 financial crisis. The areas affected by social distancing (leisure, hospitality, retail and transportation) represent a larger percentage of overall employment, but a smaller share of GDP than the finance and construction industries did in 2008. From an earnings perspective, industries impacted by social distancing represent a smaller portion of overall S&P 500 earnings than financials did in 2008. While early indications suggest that this could be a deep recession, experts agree that much of the recession and subsequent recovery will be determined by how long the pandemic lasts and whether the policy response rises to the challenge. "The question is: How long does it last, the social distancing," said Louise Sheiner, policy director for the Hutchins Center on Fiscal and Monetary Policy at the Brookings Institution. "Nobody really knows. We're all flying blind here. This is something really different than we've ever seen. . . the longer it lasts, the more staying power it has. The more businesses go under, the more people lose their jobs. . . .If we're lucky on the medical front, then yes it could bounce back very quickly. And if we're not lucky it could be much worse."
While virus containment is seen as determining the duration of the recession, another key factor is whether job losses are temporary or permanent. While a lot of businesses will not recover from this, the ones that do are anticipated to be able to recover relatively quickly. "It's very hard with any recession to know if it's a V [shaped] or a more gradual [U shaped] recovery," said Michael Graetz, former Treasury official under George H.W. Bush, "But this is a resilient economy and it seems to be a time-limited problem," he added. "The key is to marshal all the resources to get out of it as soon as we can."
CONCLUSION
Even in the midst of the crisis, all of this is worth considering for long-term investors. The last few weeks have seen sharp declines in risk assets in very volatile trading. There may well be worse to come for markets, as numbers on both fatalities and the economy still have the potential to shock investors. In any crisis of extreme uncertainty, risk assets tend to fall well below long-term fair values so now is the time to stay disciplined. Expect sharp ups and downs in the markets until our healthcare policies begin to turn the tide on the coronavirus. There are a lot of unknowns—these conditions call for patience and avoiding giving in to panic. Selling investments out of fear right now could potentially lower diversification benefits and prevent investors from experiencing gains when coronavirus-related volatility ultimately subsides, and economic activity begins to recover.
Click HERE to view a timeline of the virus.
Important Disclaimer
Callan Capital does not provide individual tax or legal advice, nor does it provide financing services. Clients should review planned financial transactions and wealth transfer strategies with their own tax and legal advisors. Callan Capital outsources to lending and financial institutions that directly provide our clients with, securities based financing, residential and commercial financing and cash management services. For more information, please refer to our most recent Form ADV Part 2A which may be found at http://www.adviserinfo.sec.gov. The S&P 500, or simply the S&P, is a stock market index that measures the stock performance of 500 large companies listed on stock exchanges in the United States. It is one of the most commonly followed equity indices, and many consider it to be one of the best representations of the U.S. stock market.