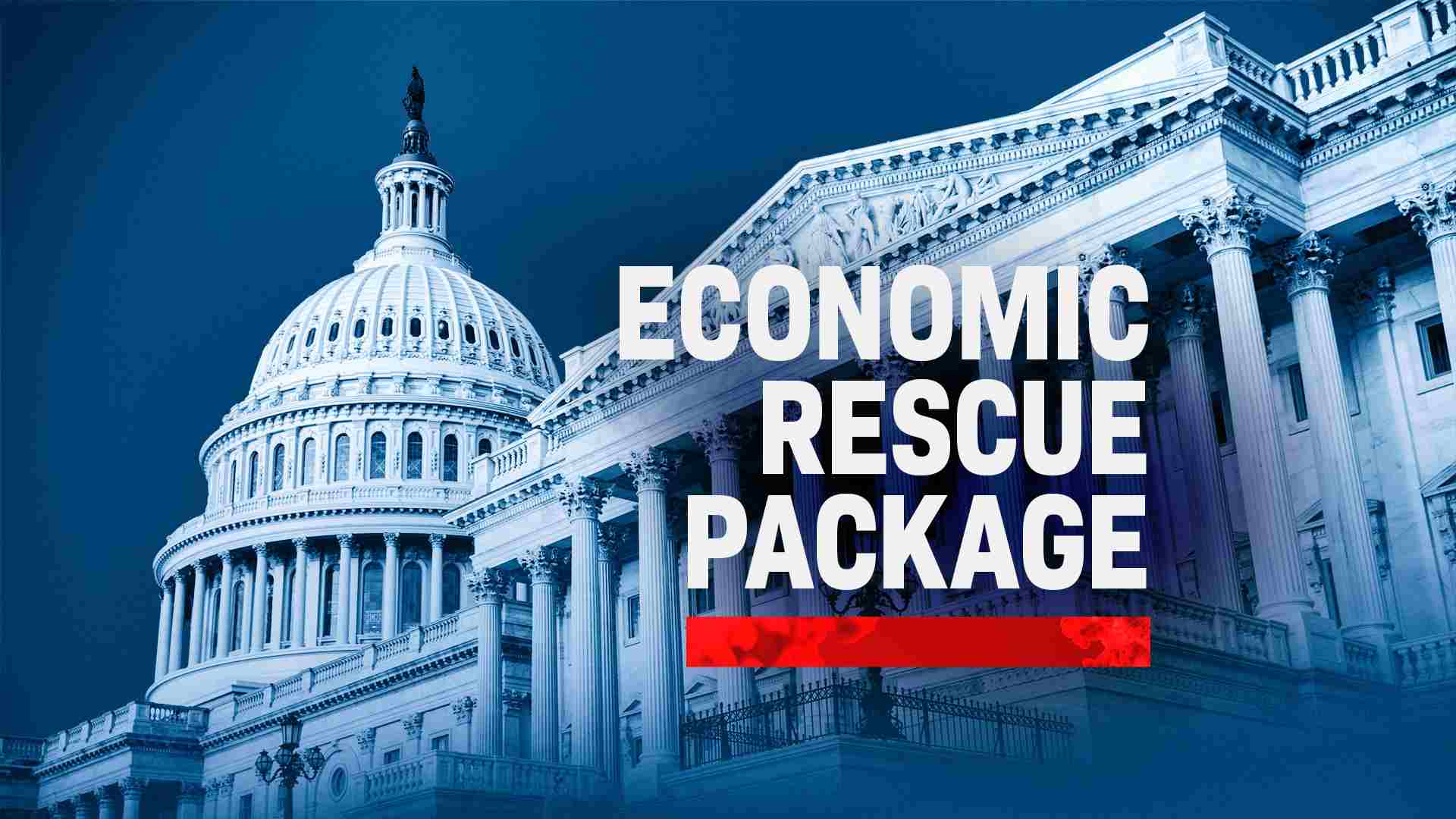 As the country and the world grapple with a still-expanding global pandemic, international economic activity has been disrupted and markets have been wildly volatile in recent weeks. While staying safe and healthy is of utmost importance in everyone's mind, people are also understandably concerned about the long-term effect the virus may have on the economy, markets and their own financial lives. One thing is clear—we are living in unprecedented times.
As a follow up to our last communication, below is a summary of the most recent government measures to stabilize the economy and the market.
The White House and Senate leaders reached a deal early Wednesday morning on a massive stimulus package. The proposal will inject approximately $2 trillion into the US economy, providing tax rebates, four months expanded unemployment benefits and a slew of business tax-relief provisions aimed at protecting individuals, families and businesses impacted by the novel coronavirus. It's the third piece of bipartisan legislation to address the pandemic this month, with two emergency stimulus bills already signed into law. But this latest deal eclipses the earlier packages in scope and spending and amounts to what could be the most ambitious economic rescue effort in American history.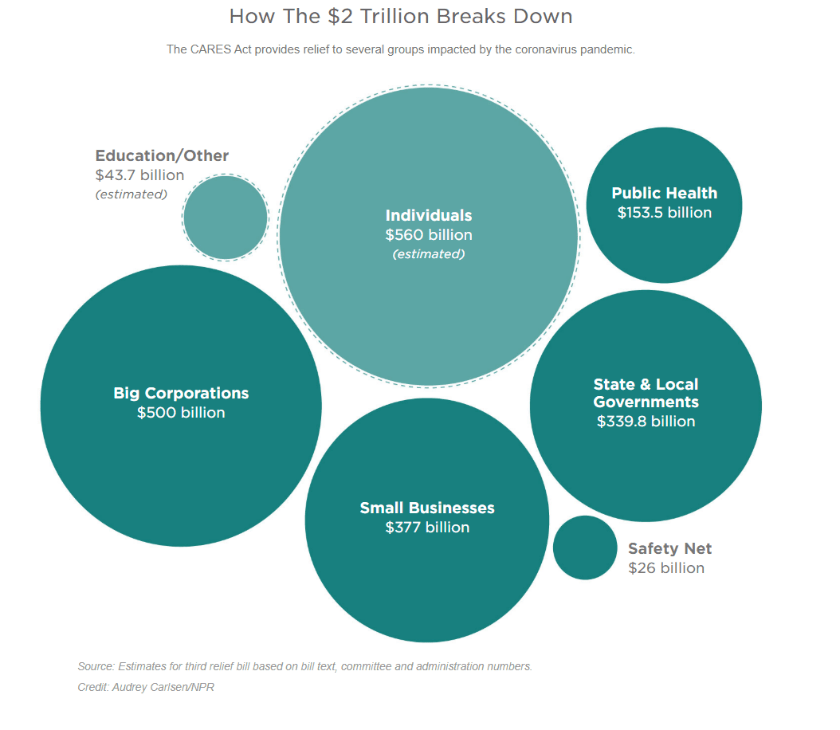 THE NEW STIMULUS PACKAGE
Senate Majority Leader Mitch McConnell, R-Ky., described the legislation, known as the CARES Act, as necessary emergency relief and vowed to put partisanship aside to get it done. "No economic policy can fully end the hardship so long as the public health requires that we put so much of our commerce on ice," McConnell said in a speech on the Senate floor on Wednesday. "This isn't even a stimulus package. It is emergency relief. Emergency Relief. That's what this is."
The deal includes $500 billion for a major corporate liquidity program through the Federal Reserve, $367 billion for a small business loan program, $100 billion for hospitals and $150 billion for state and local governments. $30 billion in emergency education funding, and $25 billion in emergency transit funding. It will also provide $25 billion in direct financial aid to struggling airlines and $4 billion for air cargo carriers, two industries that have taken a big hit in the economic downturn. The house was expected to vote to approve the law today and President Trump has already said he would sign the bill. This morning, news of a possible delay hit the markets, but the bill has since passed.
Payments to Individuals and Families:
The Senate bill will provide a one-time $1,200 check for individuals making up to $75,000 AGI per year or $2,400 for married couples filing jointly who earn less than $150,000 AGI. There is a phase-out between $75,000 and $99,000 in income, those with incomes greater than $99,000 will not receive a check. The bill also provides an additional $500 per child.
Taxes:
The Treasury announced this week that it would also grant a 90-day extension for filing federal taxes. Initially, only the payment due date for the 2019 tax year was delayed past the traditional April 15 deadline. Now both the delayed filings and payments are due July 15. Taxpayers are still able to file for an extension after July 15.
Unemployment:
Unemployment benefits will be extended to four months and the maximum unemployment insurance benefit will be raised by $600 per week. Unemployment hit 5.5% today (up from a historic low of 3.5% in February) and most economists predict the rate will increase to between 8% and 13% in the coming months as a result of the virus. U.S. Treasury secretary Steve Mnuchin has predicted unemployment in the US could reach 20%. Even with the additional funding in the bill, the unemployment system isn't designed to handle the surge of new applicants for jobless claims and how they plan to get money into the hands of those who need it is still unclear.
Stock Buybacks:
The bill bans stock buybacks for any corporation that accepts government loans during the term of their assistance plus one year. Democrats also added a provision to ban businesses owned by the president, vice president, members of Congress and the heads of federal executive departments from receiving loans or investments through the corporate liquidity program. The prohibition also applies to their children, spouses and in-laws.
Border Wall:
The Senate bill prevents the Pentagon from shifting $10.5 billion in coronavirus funding to a counterdrug account it has been using to fund the U.S.-Mexico border wall.
Student Loans:
The bill would defer payments for federally owned student loans for six months, through Sept. 30, 2020. Previous versions of the bill included forgiveness of between $10,000 and $30,000 in loans per borrower; however, those provisions were ultimately cut from the final bill.
Small Business Loans:
The bill creates an employee retention tax credit for firms hurt by the coronavirus to allow deferral of payroll taxes for two years and $350 billion for small businesses impacted by the pandemic in the form of loans. The bill also dramatically expands the Small Business Administration's ability to guarantee loans, but millions of companies could seek these guarantees all at once, putting enormous pressure on the system. The bill also creates a Treasury Department Special Inspector General for pandemic recovery and a Pandemic Response Accountability Committee to oversee loans to businesses.
THE FEDERAL RESERVE PLAN
The unfolding market shock and economic crisis wrought by the coronavirus has the Federal Reserve busy. "While great uncertainty remains, it has become clear that our economy will face severe disruptions," the Federal Reserve said as it revealed the plans to stabilize the economy. "Aggressive efforts must be taken across the public and private sectors to limit the losses to jobs and incomes and to promote a swift recovery once the disruptions abate."
The Federal Reserve says it will buy bonds and mortgage-backed securities "in the amounts needed" to keep markets working smoothly, unveiling a plan that also includes measures to make sure credit is available to businesses and consumers. The open-ended plans escalate an earlier emergency move that called for the Federal Open Market Committee to buy at least $500 billion in Treasury securities and at least $200 billion in mortgage-backed securities.
Federal Reserve Chairman Jerome Powell admitted Thursday that the U.S. economy may be slipping into a recession but said the long-term outlook will depend on how quickly the coronavirus pandemic is contained. "We may well be in a recession," Powell said on NBC. "But I would point to the difference between this and a normal recession. There is nothing fundamentally wrong with our economy. Quite the contrary. We are starting from a very strong position." The Fed introduced a wave of unprecedented stimulus measures this month, including slashing interest rates, pledging to buy unlimited bonds, and instituting credit programs for companies as businesses struggle to remain afloat while the coronavirus outbreak slashes economic activity around the country.
CONCLUSION
While no one has seen a situation quite like the mass global shutdowns spurred by the Coronavirus, history does speak to the importance of staying invested through severe market turbulence as best days often follow the worst. Diversification can show some of its greatest benefits in the most difficult times. Staying disciplined through all of the volatility is critically important—now more than ever.
Click HERE to read more about the economic impact of the virus.
Click HERE to view a timeline of the virus.
Important Disclaimer
Callan Capital does not provide individual tax or legal advice, nor does it provide financing services. Clients should review planned financial transactions and wealth transfer strategies with their own tax and legal advisors. Callan Capital outsources to lending and financial institutions that directly provide our clients with, securities based financing, residential and commercial financing and cash management services. For more information, please refer to our most recent Form ADV Part 2A which may be found at http://www.adviserinfo.sec.gov. The S&P 500, or simply the S&P, is a stock market index that measures the stock performance of 500 large companies listed on stock exchanges in the United States. It is one of the most commonly followed equity indices, and many consider it to be one of the best representations of the U.S. stock market.