With all the uncertainty surrounding COVID-19, we know many people are facing sudden and severe challenges. Callan Capital strives to provide you with concise, timely and insightful updates so you may focus on taking care of your family. We hope you have found our blogs and webinars on the financial markets, the economy and government actions helpful.
Looking ahead, we want to set our sights on what a recovery might look like. In order to understand the depth and duration of this recession, we have been focused on these three conditions:1) evidence the infection rate is slowing down (flattening the curve); 2) deployment of credible and coordinated monetary and stimulus policies; and; 3) progress in drug therapy and testing. We've seen signs of stability in several of these areas over the last few weeks and the markets have responded accordingly.
Infection Rates:
We've seen the early signs of the reduction in growth of new cases (flattening the curve) in several countries as evidenced by the chart below. Many countries including South Korea, China, Spain and Italy have begun gradually easing restrictions.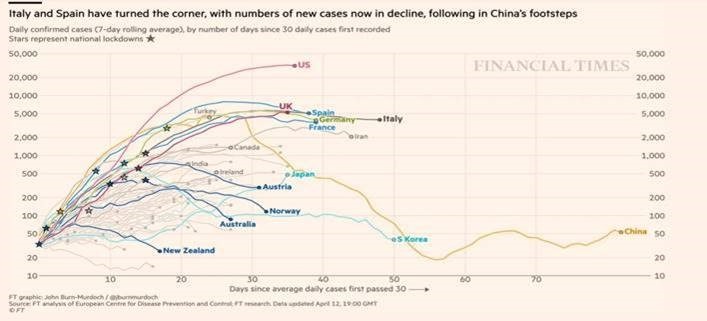 In the United States, the flattening of the curve is prompting discussion of the roll back of some restrictions. Last week the Trump administration shared guidelines for a 3-phase protocol to begin easing social distancing measures and stay-at-home orders. The phases can be implemented on a state-by-state basis and are at the discretion of each state. Once a state sees a downward trajectory of cases for a 14-day period, the state can begin using Phase 1 protocols. These protocols allow people to begin returning to work in slow increments, but they require all vulnerable populations remaining home, continued 6 ft. social distancing, no non-essential travel or large gatherings, and schools remaining closed. If no resurgence is seen, a state may move into Phase 2 which allows for schools to reopen, congregations of 50 people or less, non-essential travel opening, and large venues will be permitted to open with physical distancing in place. Phase 3, referred to as "the new normal", includes a full return to work but with hygiene and distancing protocols continuing to be in place.
Economic Policy:
The Federal Reserve last month took extraordinary actions to deal with the financial shocks delivered by the COVID-19 pandemic. The central bank announced last week a new $2.3 trillion round of loans that include even more support for small businesses and consumers and, for the first time, state and local governments. Fed action, in a number of ways, will determine how well the recently enacted $2.2 trillion CARES Act deals with the looming COVID-19 recession. This unprecedented response has normalized the financial markets and is helping with the overall liquidity in the market and could have helped avoid a financial crisis.
This will be a balancing act for governments as strong public health policies can have a negative impact on the economy, both short-term and long-term. A strong recovery is possible if we are able to re-open the economy in a relatively short time frame. The fundamentals of the economy were strong prior to COVID-19 and now the fuel line to the engine has been cut off. The World Trade Organization economists estimate that if the pandemic is brought under control relatively soon, trade and output could potentially rebound nearly to their pre-pandemic trajectory sometime between 2021 and 2022.
Treatments, Testing and Vaccine for COVID-19:
Currently, the best and brightest minds in the world are actively pursuing treatments and vaccines. Gilead Sciences Inc's experimental drug for patients with severe COVID-19 has been in a closely watched clinical trial that has shown some early success, although the Food and Drug Administration has yet to approve any treatment against the disease.
Herd Immunity of a disease occurs when approximately 40% of the population or more become immune with antibodies. It is unlikely for the economy to fully function until herd immunity is established and social distancing is no longer necessary. The body can develop the antibodies by either getting infected with the virus and recovering or being injected with a vaccine. There are several companies working on a vaccine including Johnson and Johnson and Sonofi. However, according to Dr Fauci, a vaccine won't be available for widespread use for another 12-18 months.
Antibody testing is making progress which can test for the presence of antibodies that indicate some level of immunity to the virus. Antibodies are present when someone has been exposed to the virus and has recovered. In a press briefing earlier this week, Dr. Fauci commented on the possibility of widespread antibody testing and certificates of immunity being issued to allow people to return to work.
Conclusion:
Recently, the financial markets have responded positively to early signs of optimism in the areas mentioned above. However, it's important to remember that key factors must be present before we can say whether or not we are on a clear path to a recovery. The recent positive reaction in the financial markets which has coincided with a historic rate of job losses further emphasizes the importance of staying the course with a diversified portfolio through times of uncertainty.
Important Disclaimer
Callan Capital does not provide individual tax or legal advice, nor does it provide financing services. Clients should review planned financial transactions and wealth transfer strategies with their own tax and legal advisors. Callan Capital outsources to lending and financial institutions that directly provide our clients with, securities based financing, residential and commercial financing and cash management services. For more information, please refer to our most recent Form ADV Part 2A which may be found at http://www.adviserinfo.sec.gov. The S&P 500, or simply the S&P, is a stock market index that measures the stock performance of 500 large companies listed on stock exchanges in the United States. It is one of the most commonly followed equity indices, and many consider it to be one of the best representations of the U.S. stock market.