We are excited to announce that Trevor Callan, managing partner at Callan Capital and co-founder of the Equinox Center, was a finalist for the LEAD San Diego Visionary Awards for his leadership and involvement in the Equinox Center. The Equinox Center turns research into action to ensure a healthy environment, strong economy and outstanding quality of life in the San Diego region.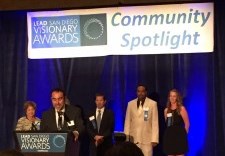 As Southern California's premier leadership recognition event, the award ceremony recognized individuals who have a history of leadership and have had a significant impact in their community.
Members of the Callan Capital team showed their support last night at the Hilton San Diego Bayfront. Congratulations to Trevor and all of the finalists!
For more information on LEAD San Diego, please visit http://leadsandiego.org/.
Important Disclosures:
Callan Capital, LLC ("Callan") is a registered investment adviser with the Securities and Exchange Commission ("SEC"). Such registration does not imply a certain level of skill or training.
LEAD San Diego, abc 10 NEWS Leadership Award: Established in 1981, LEAD San Diego is a nonprofit 501(c)(3) corporation. LEAD San Diego is dedicated to developing engaged civic and community leaders and to advancing the quality of life of the San Diego region through a network of these civic leaders.
Each month, LEAD San Diego in partnerships with abc 10News recognizes individuals who provide leadership by making San Diego a better place to live. Nominations are solicited and accepted from members of the community. Each month, the nominations are compiled and forwarded to committee members for review.  The number of nominations varies from 2 – 10 per month. The committee is comprised of abc 10News staffers, a LEAD program graduate and the LEAD San Diego Marketing & Alumni Relations Manager.  The votes are then tabulated by the Marketing and Relations Manager. The committee is notified of the results, and the recipient is contacted regarding the award. The nomination and receipt of this award is not based on business or financial transactions and clients of Callan were not contacted or solicited for input or comment.
For questions regarding this award you may write LEAD San Diego at 110 W A Street, San Diego, CA. 92101 or by visiting www.leadsandiego.com
A copy of Callan's current written disclosure statement discussing Callan, its services, fees and potential conflicts of interests is available from Callan upon written request to Callan Capital, LLC, 1250 Prospect St #1, La Jolla, CA 92037. (858) 551-3800.