Our Hannah Simpson was recognized for her financial planning achievements with a Leadership Award in Financial Planning at the TX A&M alumni Financial Planning Career and Education Conference.  Hannah joined Callan Capital in June 2023 as a Financial Planning Associate.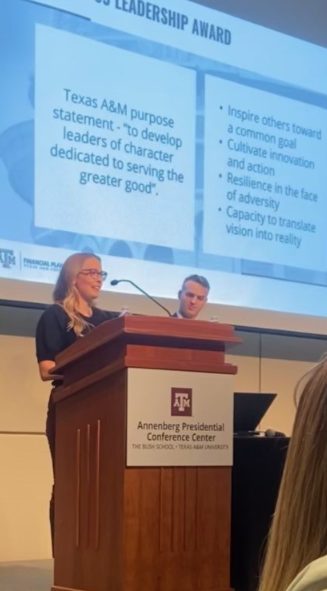 This award celebrates former students who have dedicated themselves to the selfless service of others and have contributed significantly to the financial planning profession and financial planning program at Texas A&M University.
KEY ELEMENTS OF THE AWARD:
Inspire Others Toward a Common Goal: Recipients of the Bill Carter '69 Leadership Award have a remarkable ability to unite and motivate people toward a shared vision.
Cultivate Innovation and Action: They are champions of innovation and action, consistently pushing the boundaries to achieve meaningful progress.
Resilience in the Face of Adversity: In the face of challenges, they demonstrate remarkable resilience, emerging stronger and more determined.
Capacity to Translate Vision into Reality: Their capacity to turn vision into reality makes them a shining example of effective leadership.
Congratulations Hannah!