Despite documented Covid-19 cases hitting new records around the country, equities have continued to power higher, led by technology shares and positive trial results for a virus treatment. Adding to the string of positive economic surprises, the nonmanufacturing Purchasing Managers' Index, a measure of business conditions, posted its biggest monthly gain and moved back into expansion. However, as new COVID-19 cases rise and several states slow down or roll back reopening measures, the economic recovery is likely to start losing some momentum. Uncertainty around the path of the virus and the political outcome of the U.S. elections will likely linger over the coming months, but low interest rates and monetary and fiscal stimulus should help sustain the economic recovery later this year and into 2021.
Recent high-frequency economic data continues to show gradual increases in the number of people flying, staying in hotels and eating out at restaurants. Data for May revealed sharp improvements in activity, particularly in retail spending. Monthly auto sales rose in June relative to May, as did construction employment. However, all of these activities remain well below pre-pandemic levels and a recent surge in new cases could slow further gains from here.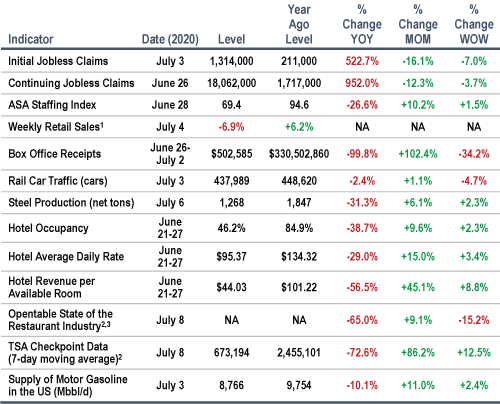 Unemployment
Thursday's jobs report showed a record 4.8 million monthly gain in non-farm payrolls for June following a 2.7 million rise in May. However, this still represents just 34% of the 22.1 million jobs lost in the prior two months. Provisions in the CARES act could also impact the pace of recovery over the next few months. In particular, two rounds of the Paycheck Protection Program created $518 billion in forgivable loans for small businesses. Originally, a key provision of these loans is that the money had to be spent within eight weeks of the loan origination date and 75% of it had to be spent on payrolls. Although the time period has since been extended, for many businesses the changes came after they had already began spending/rehiring and we may see an uptick in unemployment as those PP funds dry up and businesses are unable to keep those workers on payroll without additional help from Congress.
Stimulus
Congress has yet to approve a new stimulus package and the terms of a new package could substantially impact the pace of recovery. In terms of timing, Congress returns from its July break on July 20th but then goes into recess between August 10th and September 7th, so if a bill is passed it would most likely be in early August. If Congress fails to pass further stimulus, then the economic rebound could slow more sharply in the months ahead, with the unemployment rate potentially rising back into the teens.
Vaccines
According to the Milken Institute, there are currently 179 different vaccines being developed for Covid-19, including 17 now in clinical trials. These vaccines include traditional vaccines along with a number of novel approaches. While it is very difficult to gauge the success of any one of these efforts, the variety of the techniques, along with the resources being devoted to them suggests that some vaccines will likely be approved around the world in either late 2020 or early 2021.
Election
We began this year expecting to discuss the 2020 presidential election almost exclusively. However, the rise and spread of COVID-19 has derailed most of those conversations, rightly so, and has changed the backdrop of the 2020 election dramatically. Given the events that have unfolded, the next president will have a different policy agenda than he would have at the beginning of the year. While most of the national attention is focused on the virus, the results of the 2020 election will be very consequential for the recovery and rebound efforts ahead.
The odds of President Trump being re-elected have changed in light of COVID-19. An incumbent president has won reelection 65% of the time since the Civil War. However, in all instances in which the incumbent lost, there was a recession or depression during their term. The impacts of COVID-19 have pushed the U.S. economy into recession. The labor market is facing an unemployment rate at its highest since the Great Depression. While this could greatly diminish the chances of a Trump victory, the critical swing factor will be the public perception of the president's management of this crisis, particularly among his voter base.
Social distancing will also threaten voter turnout, which is critical for a Democratic presidential victory. Mail in voting could become much more pervasive, although expanding and changing voting measures is a hotly contested partisan issue. Not to mention, scaling up mail in voting requires immense preparation starting immediately. A win for Joe Biden in November's presidential election could weigh on the stock market but, with the Democrats standing little chance of winning a filibuster-proof majority in the Senate, we don't expect the election outcome to have a major bearing on policy.
Conclusion
Given all the uncertainties surrounding Covid-19, the economy and the election, we recommend investors maintain a somewhat defensive and very diversified stance in one of the most difficult and unusual years in modern history. The next two quarters should answer many questions with regard to the race to produce a vaccine for COVID-19 as well as the pace and shape of the U.S. and global recoveries. However, your financial goals stretch well beyond this calendar year, so your investment decisions should be guided by your longer-term strategy, not simply the next several months. At the same time, disciplined portfolio positioning and periodic adjustments can help keep you on track toward your goals as we navigate the remainder of this historic year.
Important Disclaimer
Callan Capital does not provide individual tax or legal advice, nor does it provide financing services. Clients should review planned financial transactions and wealth transfer strategies with their own tax and legal advisors. Callan Capital outsources to lending and financial institutions that directly provide our clients with, securities based financing, residential and commercial financing and cash management services. For more information, please refer to our most recent Form ADV Part 2A which may be found at http://www.adviserinfo.sec.gov. The S&P 500, or simply the S&P, is a stock market index that measures the stock performance of 500 large companies listed on stock exchanges in the United States. It is one of the most commonly followed equity indices, and many consider it to be one of the best representations of the U.S. stock market.