Russia's invasion of Ukraine, continued supply-chain issues, accelerating inflation, the Federal Reserve's interest rate hikes, China's continued Covid lock-down, and inversion of the yield curve put into context negative quarter one returns in equity and bonds. Long-term implications may include more military spending, acceleration of green energy, shifts from global to regional economies, greater unity among the European Union and NATO, countries taking sides (or forced to), and impact on US and China interactions. Officially, stocks and bonds entered a correction. ¹The quarter ended with negative returns: S&P 500 -4.6%, NASDAQ -8.9%, and ten-year treasuries -5.5%. International markets were down as well with the Nikkei -2.6%, Stoxx Europe 600 -5.9% and the Dax -9.3%. In contrast, energy finished 41.3%, agriculture 25% and industrial metals 21.5%. The labor market is tight with employers adding 431,000 jobs in March. Airline fares are up 10.7% in March from February.
Yield-Curve
²Notably, the two-year treasury yield outpaced the ten-year treasury yield, and the five-year treasury yield outpaced the 30-year treasury yield. Not all inverted yield curves lead to recession but often it can signal an upcoming recession. The Federal Reserve owns about $9TN in bonds which is 25% of the Treasury Market. Historically, quantitative tightening in 2017 resulted in volatile equity returns and bond yields plummeting.
Inflation & Federal Reserve
³Inflation is the highest it has been in 40 years having accelerated to 8.5% in March which is a four-decade high. This marks six straight months of inflation above 6% and is above the Federal Reserves' 2% target. Meat is 13.7% more expensive than it was last March, cereal and bakery products up 9.4%, and fruits and vegetables up 8.5% according to the U.S. Bureau of Labor Statistics. Some increase in pricing is because of the Russia-Ukraine war as the countries are big producers of wheat, maize, and fertilizer. The Organization for Economic Cooperation and Development estimates that global economic growth may be about 1% lower and inflation almost 2.5% higher than if Russia's invasion of Ukraine had not occurred. The Federal Reserve's top priority is to reduce inflation while still tightening monetary policy. It is considering raising rates by a half of a percent instead of a quarter point in May given strong job growth and inflation numbers.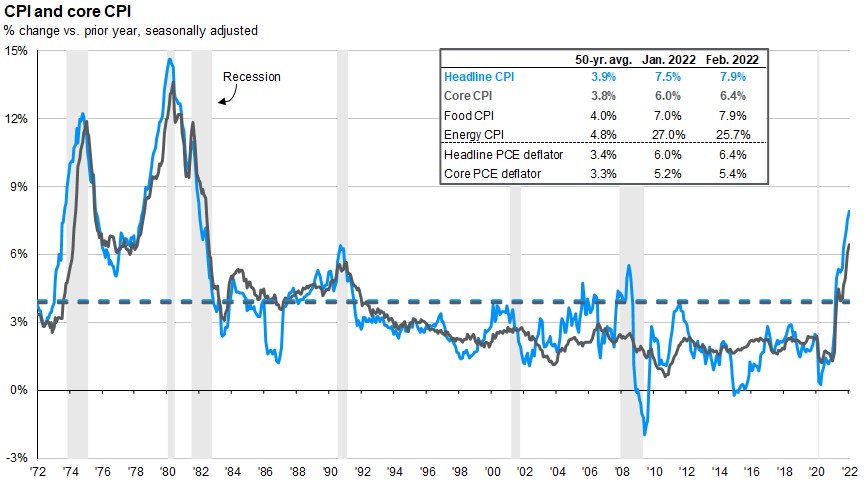 Ukraine
Russia's invasion of Ukraine is a grave, profound, and unthinkable humanitarian crisis with about 4.9MM refugees having fled Ukraine since February 2022 and about 13MM stranded or unable to leave according to the UN Refugee Agency. The depth of economic hardship in energy, commodities, trade, and supply chain reverberates worldwide. Russia and Ukraine are key players in energy, agriculture, and metals. The European Commission recently announced plans to eliminate dependence on Russian natural gas and crude oil this decade. ³The European Union currently imports 40% of its natural gas from Russia. Russia supplies about 19% of the world's natural gas, 11% of oil. Green energy acceleration will not be easy given dependence on scarce metals and materials. More than 35% of the world's palladium is in Russia, and Ukraine has abundant lithium reserves. Fuel cells for hydrogen-powered vehicles use palladium and electric vehicle batteries use lithium.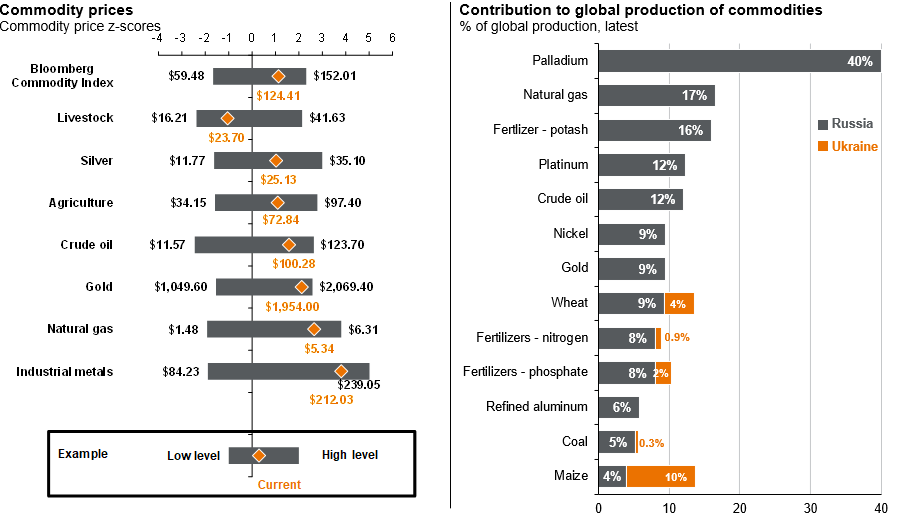 China
China's gross domestic product grew 4.8% in the first quarter of 2022 with most growth occurring in January and February. However, the world's second largest economy slowed in March because of Beijing's efforts to curb Covid outbreak and businesses being forced to suspend operations. About a quarter of the country's population (40% of its economy) are subject to lockdown. Beijing's 5.5% GDP growth target may be out of reach. China responded with interest rate cuts in effort to boost the economy and spur lending.
Conclusion
Many analysts continue to favor equity over bonds and cash for 2022 assuming the U.S. does not fall into recession but caution that the market may remain volatile with significant uncertainty. The White House announced a record release of one million barrels per day of oil for the next six months to address oil and gas prices. The U.S. labor market is very strong, unemployment is decreasing, and baby boomers are exiting the workforce.  Inflation is likely to remain moderate. Forecasts of 3% of less for real GDP on a year-over-year basis by fourth quarter remain.
It is important to keep in mind that financial markets are forward-looking, while economic data tends to be retrospective.  More balanced diversification across the market sectors is our basis for a prudent long-term investing approach.
Disclaimer
The information provided is for informational purposes only and should not be considered investment advice. There is a risk of loss from investments in securities, including the risk of loss of principal. The information contained herein reflects Callan Capital Management's views as of the date of distribution. Such views are subject to change at any time without notice due to changes in market or economic conditions and may not necessarily come to pass. Callan Capital does not provide tax or legal advice. To the extent that any material herein concerns tax or legal matters, such information is not intended to be solely relied upon nor used for the purpose of making tax and/or legal decisions without first seeking independent advice from a tax and/or legal professional. Callan Capital has obtained the information provided herein from various third-party sources believed to be reliable but such information is not guaranteed. Callan Capital makes no representations as to the accuracy or any other aspect of information contained in other Web Sites. Any forward-looking statements or forecasts are based on assumptions and actual results are expected to vary from any such statements or forecasts. No reliance should be placed on any such statements or forecasts when making any investment decision. Callan Capital is not responsible for the consequences of any decisions or actions taken as a result of information provided in this presentation and does not warrant or guarantee the accuracy or completeness of this information. No part of this material may be (i) copied, photocopied, or duplicated in any form, by any means, or (ii) redistributed without the prior written consent of Callan Capital Management. For detailed information about our services and fees, please read our Form ADV Part 2A, and our Form CRS which can be found at https://www.advisorinfo.sec.gov or you can call us and request a copy at (866) 912-4888 
All data presented as of March 2022
Sources:
¹https://www.cnbc.com/2022/03/30/stock-market-futures-open-to-close-news.html
²https://www.pgpf.org/blog/2022/03/the-federal-reserve-holds-more-treasury-notes-and-bonds-than-ever-before
³https://www.bbc.com/news/58888451
³https://www.marketwatch.com/story/palladium-eyes-record-prices-as-russia-ukraine-war-looks-to-deepen-supply-deficit-11646419466